USS Yarnell Page 2
The Image below was sent to me by Carlos Royal, carlosroyal@cox.net, a former Sailor aboard the Yarnell.
The Downloadable is a Five x Seven Inch image of the ship.





Outboard DLG 17 Yarnell; Inboard DLG 18 Worden





Carlos Signed the guestbook with these comments:

I was on the commissioning crew of the USS Harry E. Yarnell DLG 17. I was at the helm the first time she went to sea. What's interesting, we moved this past month and my wife found my plank ownership certificate and had it framed for me for Christmas. I was also at Bath when DLG 16 went to sea but was not part of her crew. I spent almost a year at BIW. I was a Fire Control Technican third class at the time and worked on the Mark 119 computer and the SPG 55 Radar for the Terrier Missile system. Latter I was put in charge of her 3" gun systems when the ship went to Cuba for test missile and gun firings and because Castro decided to turn the water off at the base. The Yarnell was hooked up to the base system and suppled water to the base until an old tanker was hauled in and anchored in the bay. I have some really nice color pictures of the Yarnell at BIW. I will scan them later and send them. Thank you. Carlos Royal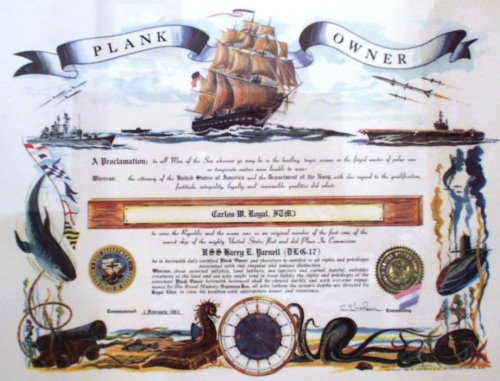 Here is a copy of my plank owner certificate for the USS Harry E. Yarnell DLG 17. It was lost for almost 40 years. We move last month and my wife discovered it and had it framed for me for Christmas. What a wonderful surprise.
Carlos Royal
Below are some shots taken on Yarnell and sent to me by Carlos.


This is a Terrier missile being launched from the USS Harry E. Yarnell DLG-17 in1963. The Yarnell and the Terrier missile systems were the newest and latest in Naval weaponry at the time. This test firing was during the ship's first shakedown cruise to the Caribbean missile range off the coast of Cuba and was fired at a military drone. The firing was a success and destroyed the drone. I was a fire control technician second class and my job was the operation and maintenance of the Mark-119 computer which controlled the radar, also seen in the picture. The radar tracked the target and guided the missile. The Terrier was the first naval launched "guided missile". It followed the radar beam to the target. I was also responsible for the radar and gun sight control system for the three inch gun battery. I was standing at the gun sight when I took this picture using a 35mm camera.




Cliff Cambell and ? on the fantail of the Yarnell. Cliff was also in Bath Maine while the ship was being built. His e-mail Wdmaker@aol.com




Yarnell blow her stacks.
This really made short work of white uniforms.




Guess they even got a little liberty to do some sportfishing from fantail! Carlos writes "I caught this fish off the fantail of the Yarnell while out a sea in the Carribean. We were doing slow run acoustical test. Perfect for trolling. I used the barrel of a ball point pen as the lure. The reel is a Mitchell 300."



This is Carlos Royal, former Sailor on Yarnell today. Many thanks for sharing the pictures with us! Another piece of Nautical History preserved.